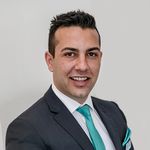 About
Ali was born and bred in the Penrith region and is a dedicated professional in Real Estate. He has worked in his local area for over 18 years and he instinctively knew that it was just a matter of time until he would open his own office. Ali learnt what not to do from other Principals & Real Estate Agents. From this, his ambition to deliver to you an outstanding office with a fantastic fresh approach, a hard working, dedicated sales team offering competent sound advice to his local community has been realised.
With his feet firmly on the ground Ali is part of his own award winning sales team, listing and selling homes and talking real estate with a passion that resonates from him.
Achieving the highest price for his clients is Ali's main priority whilst maintaining honesty and integrity. His referral base, client database and networking capacity within the industry is phenomenal and Ali will show you how he can get you the highest price in the shortest time.
Ali's is a football fanatic, crazy about animals, loves his family and friends and has a genuine love of life. His easy manner and good nature are reflected in the quality of the people he surrounds himself with. Committed to excellence in customer service and with his vision for "Southlands Estate Agents", he provides to his community an honest, sincere, dependable, stress free, complete real estate service.
Contact